I've been reading occasionally about the chemicals in tap water, and decided to buy a water filter jug.
The timing was interesting, as there's just been a news item (15 Jan 2020) that a study in Europe showed that bladder cancer was linked to the presence of chemicals created as a by-product of chlorination. Of 14 thousand cases of bladder cancer in the UK, more than a thousand were attributable to these chemicals.
The jug I went for was the "ZeroWater", as, at least according to their website, it removes much greater percentages of stuff in the water than other brands like Brita. The downside is that the filter cartridges are fairly expensive.
What I don't know is to what extent the filter removes hormones, which are now becoming an issue. But I'm reassured that it removes pesticides, metals like mercury, chlorine, micro-plastic particles, and a long list of other nasties.
I bought from Amazon, but it looks like these products have pretty standard pricing everywhere.
I actually bought a jug, and also a "Portable Travel & Sports Bottle", which I plan to take on trips to hotels etc., at least those I can drive to.
I've bought some spare filters, so overall the cost is:
Jug (pitcher) £25, Travel bottle £15, 4 regular filters £50, 2 travel filters £15
The jug comes with a gadget to test the solid content of your tap water, and mine is 300, which is quite high. It does mean the filters won't last so long.
The taste? It's pure water, which is a rare thing, and the taste is different. To me, it's slightly lighter and sweeter, but that's just my impression. In coffee (Nespresso) I found the coffee taste less intense, so I think I'll use less water in making my Americanos in future. In tea (with soya) I noticed no difference.
Is it worth doing all this? I think so, and every time a news item comes about poor quality of tap water, it'll probably reinforce me, despite the cost of the filters!
ZeroWater 7 Cup ZP-007RP 1.7 Litre Blue Water Filter Jug | Fridge Door Design with 5 Stage Filtration System, Water Filter Cartridge Included
ZeroWater is the only water filter jug that removes 99.6% of TDS. Total dissolved solids are salt, metals & contaminants, like Lead, Radium & Chromium that get into your drinking water from run-off or old piping. ZeroWater products do so much more than provide you with tasty, filtered water. Our unique 5-stage filter removes virtually all total dissolved solids (TDS), a claim which no other filter jug or dispenser can put their name to.
1) Delivers the purest tasting water
2) The only filter certified for Lead & Chromium reduction
3) 3rd party tested to remove 99% of Chlorine, Fluoride, Radium and Asbestos
Only ZeroWater removes virtually all dissolved solids from tap water, and we feel so passionate about it that we provide a free water quality meter with all of our jugs.
Sources
Environmental Health Perspectives: https://ehp.niehs.nih.gov/doi/10.1289/EHP4495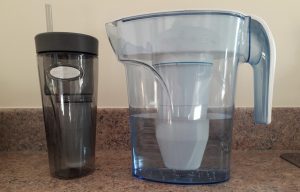 Link to my post on "Toxins in tap water"